Over 30 years of experience
Excellence in cleaning and sanitation maintenance products
Founded in 1990, Noble Chemical has grown into a leading supplier of cleaning and sanitation maintenance products. With our focus on providing a complete line of specialty products while providing outstanding services, we take great pride in the Noble Chemical brand becoming synonymous with excellence.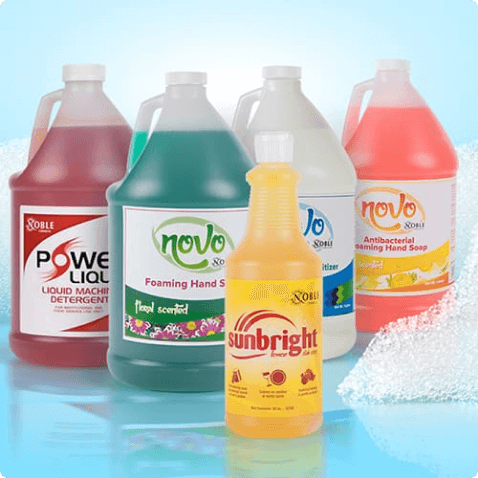 Our Products
Superior products with honest value
Striving to achieve what our customers value the most, Noble Chemical provides a wide range of solid, liquid, powdered, and aerosol chemical specialty products at very competitive prices, and it even offers custom programs and services tailored to meet the individual needs of its customers. We make use of multiple distribution methods that allow us to serve as a major provider to the institutional, janitorial, laundry, and industrial and commercial food service industries.
Our product variety includes
Ware washing chemicals
Laundry products
Aerosol sprays
Floor and carpet care
Food service cleaners
Hard surface sanitizers
Housekeeping products
Drain treatment products
Dish machines and equipment
Dilution control products and systems
Environmentally responsible products meeting U.S. EPA DfE specifications
Customer satisfaction
Quality services that you can trust
With our knowledgeable, factory-authorized team of technicians, we are fortunate to have earned the trust of our customers and greatly appreciate their support. Noble Chemical will continue to grow by striving to do business the way the customer wants to do business.
Visit our website

(opens in a new tab)