public money projects
Specific expertise for hard bid food service construction projects
We offer specific expertise for hard bid food service construction projects, focusing mainly on publicly funded projects. Since our conception, we've employed refined processes to meet the needs of general contractors and end users. We understand that being the low bidder is crucial in each job, and we are savvy at helping clients stay within budget while also providing the right equipment for the needs of the project.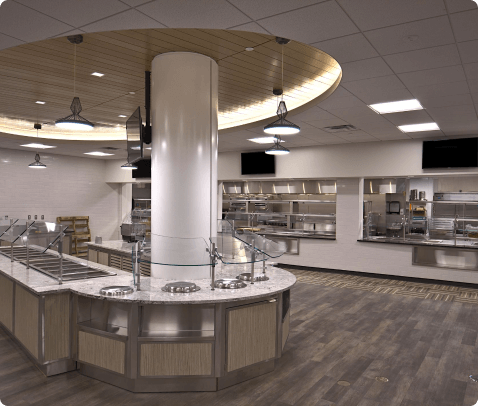 wide range of work
Well-suited for any hard bid focused work
We specialize in K-12 schools, universities, corporate cafeterias, correctional facilities, government projects, and sports arenas, but we are well-suited for any hard bid focused work. Our jobs range from small lunchroom renovations to brand new multi-million dollar dining halls. In addition to bidding hundreds of projects each year, we frequently provide preliminary budget pricing to general contractors and construction managers and provide candid feedback if requested to ensure the finished kitchen works in the most effective and efficient way.
quality and reliable
Strategically located nationwide
With physical offices strategically located in Lancaster, PA and Charlotte, NC, we can manage projects nationwide. Each department from sales to project management to warranty strives to exceed expectations in the food service industry by providing excellent communication and expertise through every stage of the project. The 11400, Inc. name is synonymous with quality and reliability.
Visit our website

(opens in a new tab)