the restaurant store video
Simplified shopping
for the service industry
Lower prices and larger inventory
Since we first opened our doors in 1993, The Restaurant Store has provided the selection, value, and excellent service needed by today's foodservice industry. Our competitive prices and vast inventory help keep restaurants stocked throughout their busiest times of the year, with thousands of must-have items stocked on our store shelves or available online.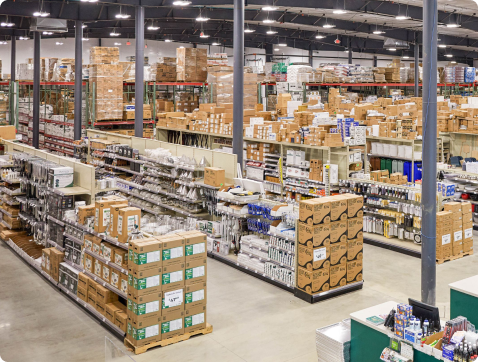 Seamless experience in-store and online
What sets us apart
The Restaurant Store strives to provide a seamless shopping experience, whether someone is visiting one of our 11 store locations across PA, DE, MD, and NJ or browsing our enormous online inventory. Our industry-certified staff is committed to helping customers find the right products for their business every time.
See Locations
core values
What matters most to us
Do The Right Thing

We believe in treating others with respect and acting with integrity in all aspects of what we do.

Enlightened Hospitality

Our culture was built on the idea of providing advanced hospitality to each other, our customers, our community, and our suppliers.

Take Ownership

We look to employ entrepreneurial thinkers who constantly seek out change and implement innovative, effective solutions.
Company culture
Investing in the best people
Our mission is to provide customers with an unparalleled buying experience, and we can only do that by investing in great people who embody our core values. We have the kind of people that won't rest until the customer is satisfied. Just as we strive to provide a best-in-class experience for our customers, we do the same for our people by providing flexible schedules, expansive mentoring and growth opportunities, top-notch benefits, and more. Come for a career, stay for the culture.